Updated January 8, 2021
What — another acronym from the IRS?  If you're a small business owner, you'll run into a bunch of these when it comes time to run payroll. But don't worry: by the end of this article, you'll know exactly how to handle FUTA and why it's important to your business and your employees.
You'll also know your FUTA from your FICA and SUTA, so payroll will feel a lot less like alphabet soup! We've always got your back if you have any other questions about calculating payroll.
The Federal Unemployment Tax Act (FUTA) is a payroll tax that's used to fund unemployment benefits. If you have employees, you are required to pay FUTA to the IRS, but you won't withhold anything from your employee's paychecks to do so.
Let's dig into the specifics:
2021 FUTA Tax Rate
The standard FUTA tax rate is 6.0% on the first $7,000 of taxable wages per employee, which means that the maximum tax that you as an employer have to pay per employee for the 2020 tax year is:
$7,000 x 6% = $420
Once an employee makes $7,000 in gross wages for the year — that's it. You no longer have to pay FUTA for that particular employee.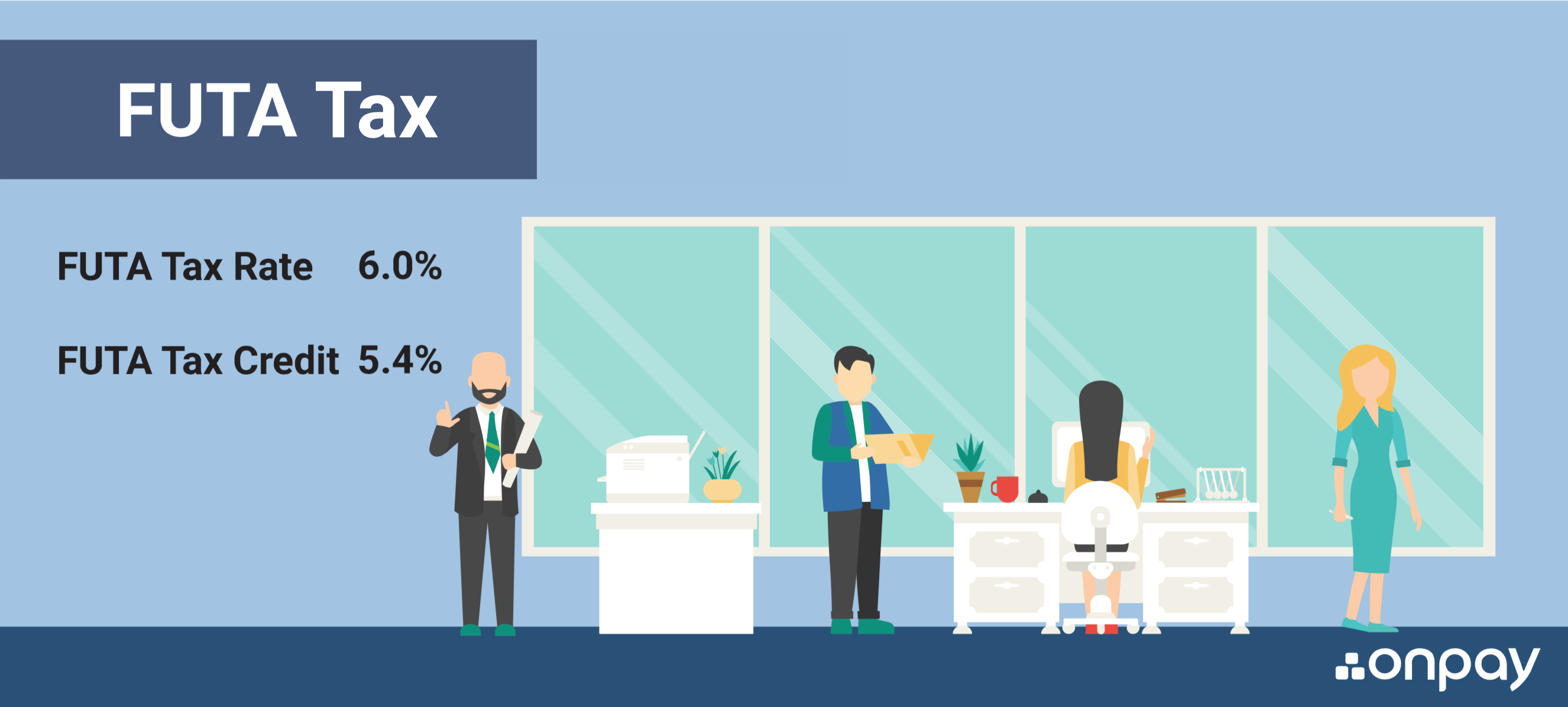 Paying FUTA Taxes to the IRS
Once you've calculated the amount of FUTA tax you owe, it's time to pay the IRS.
Employers are responsible for paying FUTA tax on a quarterly basis. The payment due date is one month after the end of each quarter. For example, taxes for the quarter ending December 31st are due on January 31st. You make quarterly FUTA payments directly through the Electronic Federal Tax Payment System.
Businesses also have to report FUTA taxes as part of their annual tax return, filed using IRS Form 940. The due date for filing Form 940 each year is on January 31st of the following year. However, if you've been good and deposited all of your FUTA tax on time each quarter, you automatically receive a ten-day filing extension.
FUTA Tax Credit
Here comes some good news… Employers who pay their state unemployment insurance in full and on time are eligible to receive a FUTA tax credit of up to 5.4%, which can result in an effective FUTA tax rate of 0.6%.
Since you get a whopping 90% discount on your FUTA bill, it pays to be diligent when remitting your state unemployment insurance on time.
But there's just one little caveat: You'll notice that we said "up to" 5.4%. The percentage you get back will depend on which state you do business in, and whether your state has any outstanding federal unemployment insurance loans.
The Department of Labor announces at the end of each year which states are eligible to receive the full 5.4% tax credit.
For the 2019 tax year, all 50 states are eligible for the full 5.4% tax credit. Only the US Virgin Islands isn't because they failed to repay their outstanding federal unemployment insurance loans by November 10, 2019.
If you would like to learn more about the FUTA tax credit and the state loan program, you can find a very detailed (and clear, we might add) explanation from the IRS.
Self-Employed
What happens if you're self-employed? Are you liable for the FUTA tax? The short answer is no, you're not on the hook to pay FUTA if you're self-employed. On the other hand, you also aren't eligible to receive unemployment benefits.
FUTA is just a small part of a small business's payroll tax journey. If you would like to learn more about the entire process, check out our step-by-step guide here. If you ever have any questions, or feel like you might want to leave this item on your to-do list to someone else, we make payroll really easy. Take a peek.